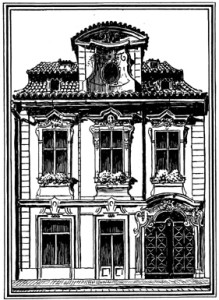 Welcome to Prague Airbnb apartments and studios! I am running several Airbnb listings in Prague, beautiful city in the heart of Europe, the capital of Czech Republic.
My name is Ondřej and I am trying to do all my best for satisfaction of my guests. My Prague Airbnb stays offerings are kindly supported by my family and friends and – even I run several places to stay – I am trying to keep this as personal as is possible.
I am thankful to Airbnb company to get this opportunity to serve people coming to Prague and Czech Republic, show them the best of Prague and help them to experience the magic of Central Europe.
My projects connected to the renting of apartments and studios placed mainly in the historical parts of Prague: The Magical Garden, Cityhouse.
And here are the Prague Airbnb apartments and studios:
Apartment in Prague, Czech Republic. Big, comfortable and quiet flat in heart of Prague/Europe for up to 8 person. You stay just downtown, 50 m from Wenceslas Square, with direct access to the metro station and other public transport. Nice magical garden, historical building. View all listings in Prague
Apartment in Prague, Czech Republic. Dientzenhofer Apartment in the heart of Prague/Europe for up to 6 persons. You stay just in the middle of the town, 50 m from Wenceslas Square, with direct access to the metro station and trams. Nice magical garden, historical building. View all listings in Prague
Apartment in Prague, Czech Republic. Experience the original atmosphere of a baroque building in Prague downtown. The apartment with original furniture has a big bathroom, cloakroom and conservatory. Big enough for four guests, with kitchenette, double bed and convertible sofa. Märk… View all listings in Prague
Apartment in Prague, Czech Republic. Big, comfortable and quiet flat in heart of Prague/Europe for up to 8 person. You stay just downtown, 50 m from Wenceslas Square, with direct access to the metro station and other public transport. Nice magical garden, historical building. View all listings in Prague
Apartment in Praha, Czech Republic. Comfortable apartment for 6 guests with kitchen and bathroom is perfect for exploring Prague. Downtown is ten minutes from the house, big park with vineyard, cafés and children's playgrounds and legendary Krymská cultural quarter around the corner. View all listings in Praha
Apartment in Prague, Czech Republic. Nice penthouse flat with great terrace in heart of Prague for up to 3 persons. You stay just in the middle of the town, 200 m from Wenceslas Square, very near to central train station, subway station and other public transport. View all listings in Prague
Apartment in Prague, Czech Republic. Fully furnished studio with wi-fi and best access from the Vaclav Havel Airport, 10 minutes from Old Town. New transport hub (subway, airport bus, tram, train) 200 steps from the house. Quiet quarter, huge natural park neighboring, free parking. … View all listings in Prague
Bed & Breakfast in Praha, Czech Republic. Studio in Dejvice, near Prague Castle and other attractions. Cozy studio equipped with a bathroom, a double bed and mattress, Wi-Fi, refrigerator, washing machine and microwave. Free parking is available. Cozy studio apartment in the 5th floor wi… View all listings in Praha
Ubytování Praha centrum – Apartmány v samém srdci Prahy
Jedinečné výhledy na celou Prahu – poklad mezi apartmány Airbnb PLUS
Komfortní apartmá v samém srdci Prahy s terasou Airbnb PLUS
Elegantní apartmán v Lucerně – ubytování Praha centrum
Zpátky do historie – ubytování Praha centrum
Útulný apartmán v srdci Prahy – ubytování Praha centrum
Historický apartmán v srdci Prahy – ubytování Praha centrum
Bright Comfortable Hideaway in Central Prague
Prague Jewish Quarter City Center Terrace Studio
Prague Absolute Centre Hideaway TV Washer Dryer
Comfortable Flat Old Town Jewish Quarter St. Agnes 2BDR TV
The Magical Garden – Old House Prague Centre
Old Prague Baroque Gem with Terrace
Modern Living Nice Residential Area Vršovice TV Washer Dryer